Bedroom design is our topic for February, the month of love. Your bedroom is a private space. It's not a room that is shared, such as the living room and the kitchen; it belongs to you and your partner (and maybe your kids and pets for early morning cuddles, or outright bed-hogging!)
It's important that it looks inviting, intimate and attractive. This is a place to relax, to let go of the day, to sleep peacefully and to spend 'quality time' (read "is a lock required?") with your partner.
Creating Balance in Your Bedroom Design
We think it's important to get the 'balance of the couple', so we spend time talking to clients about their styling preferences – their personal colour, shape and texture choices. These are unusual questions to most grown-ups (kids talk favourites all the time), but they influence design and style choices and can be very revealing about a client's taste.
How to Mix Masculine & Feminine Design Elements in your Bedroom Design
We like to mix masculine and feminine elements in the room to ensure both sides feel comfortable and at home here. Styling a room in florals and pinks might make one half of the couple happy but the other half may not be so keen.
We investigate our client's 'design psychology' with a simple questionnaire to help us ascertain how formal or informal they are, which colours they appreciate, which cultures they admire, who influences their style, what textures they enjoy, how detailed they are and how they value their home spaces.
Feminine interior styling can be seen here in the use of pinks, curves, pompom accessories and the pretty wallpaper (not to mention the shoes!)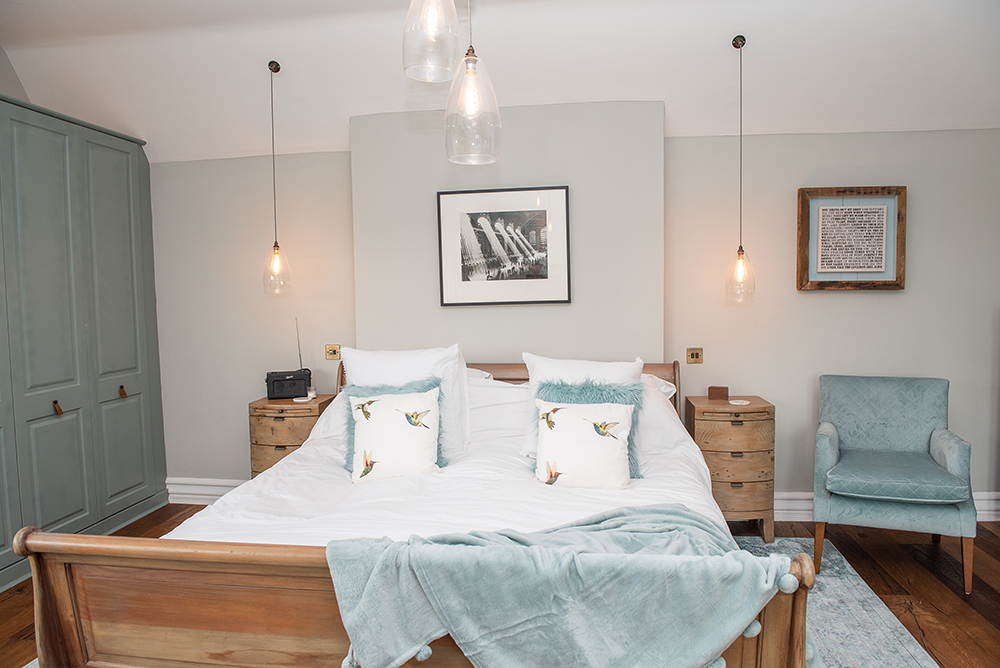 The masculine approach can be observed in the pendant styles, the art choice, the boxier chair with diamond-stitched fabric and the leather pull handles on the wardrobe doors.
How to Incorporate Special Memories in Your Bedroom Design
We also include special places and memories in our projects. The design of the screen below was based on Lincoln Cathedral where the couple were married. The choice of colours was also chosen to reflect the time of year they were married, using a warm autumnal colour palette with pops of the client's favourite blue. This gave meaning and life to their bedroom design.
This bedroom restyling project was based on an autumnal palette, the time of year when the couple were married.
Questions to ask when Designing the Perfect Bedroom
The layout for most bedrooms is not complex and the furniture required is pretty self-explanatory, so the key to good design in this space is the interior styling. Let's look at each of the elements of the room and see how they can be styled:
Walls
Do you want a soothing colour paint or a feature wallpaper? What colours do you both enjoy? Is there a special time of year you both prefer? Or perhaps a special place you visited that you would like to incorporate into your design?
Windows
Do you like full-length curtains with thick interlining and glorious headings? Or a simple blind? Or even a voile? Think about the light in the evening and early morning and if you prefer to leave the window open or closed when you sleep.
Floors
Do you like warm wooden flooring and rugs? Or a wall-to-wall thick pile carpet underfoot? Think about how you want your feet to feel when you hop out of bed in the morning.
Lighting
Do you like a decorative pendant or down-lights pinpointing art on the walls? What light do you want at your bedside?
Heating
Underfloor heating is a rarity in the bedroom, so where will your radiators go? Consider uprights to avoid wasting excess wall space.
Furniture
Besides the bed and a wardrobe, do you have space for a chest of drawers, a dressing table or a walk-in dressing area?
Accessories
How many cushions is too many? Yes of course you need a throw at the end of the bed!
If your bedroom needs restyling and you'd like our friendly but professional opinion please get in touch. Need inspiration on home remodelling? Check out our portfolio here.
Niki Schäfer and Sarah McLean are professional interior designers. We both studied at KLC School of Design in Chelsea. We are also both mums and understand the daily life of families. We live in Henley-on-Thames and serve the Oxfordshire, Berkshire and Buckinghamshire counties as well as West London (ideally not in the congestion areas as our trades hate that). Niki has a dog and Sarah has a hamster, so we understand the importance of incorporating your animals into your interior design too.
Email: niki@nsid.co.uk
Website: www.nsid.co.uk
Mobile: + 44 (0)7782 256444