This short blog takes a look at the thought process and interior design decisions behind creating a luxury bedroom with a boutique hotel interior design in Buckingham.
This is a look at one of our recent interior design projects in Buckingham, you can see the full project details here. The client wanted their home to represent a high-end luxury boutique hotel exuding dramatic bespoke features such as this statement high-backed fabric chair, large metal mirror, custom-built fitted wardrobes and grand headboard on the super-king bed.
Let's take a look through some of the images from this luxurious home in Buckingham to get some interior design inspiration for your house.
The client needed to incorporate plenty of storage which we created into this bespoke fitted floor-to-ceiling wardrobes, hand-crafted storage stool and bespoke chest of drawers with handles that matched the luxurious feel of the room.
For the design to work well, we needed to make the lighting in the room as simple as possible and therefore integrated spotlights into the ceiling that work on a dimmer switch and incorporated table lamps to match the room's colour scheme in luxury fabrics to complement the interior design aesthetics and retain the boutique hotel design.
The lighting helps to transform the interior design of this home in Buckingham into something truly special and luxurious.
The interior design of this room heavily features luxurious textures, colours, bespoke storage solutions, lighting and artwork that adds to the personality of the room. A warm, soft colour palette set against bright white woodwork and silver accent pieces really help to bring the luxury interior style together.
The colour pallet used throughout has warmth with clean lines and a decadent feel, we incorporated soft touches using plush fabrics and expensive accessories using heavy metals in silver tones and custom-built furniture.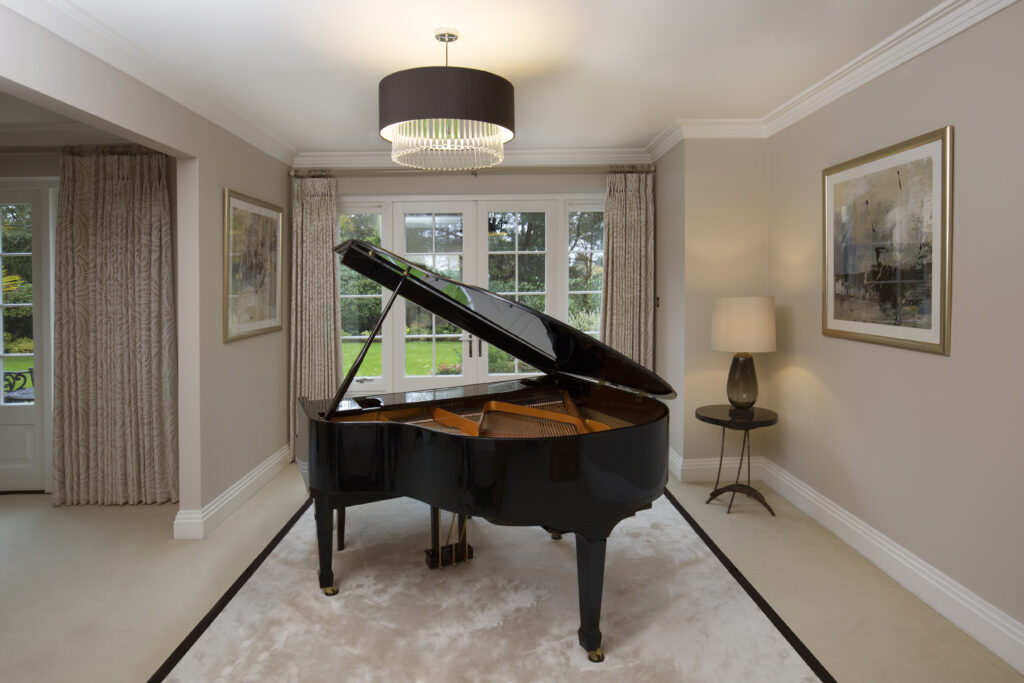 To view more sumptuous images from this interior design project in Buckingham please follow the link for Beaconsfield House.
---
Please email niki@nsid.co.uk to arrange a design consultation in your home. We operate in Buckinghamshire, Oxfordshire, and Berkshire. Take a look through our interior design portfolio here.